Dr. Maria Diaz, DVM
Co-Owner, Associate Veterinarian
Although she'd had an affinity for animals since she was young, Dr. Diaz wasn't sure that veterinary medicine was her true calling until her first year of college. After a year and a half of architecture studies, she realized that it was time for a change. During the first semester of her sophomore year, she decided to do some volunteer work at a local animal practice. It didn't take long for Dr. Diaz to become hooked—she decided almost immediately to start making arrangements to attend veterinary school!
Dr. Diaz grew up in San Juan, Puerto Rico, where a love of nature, animals, and the outdoors blossomed early on. She attended the University of Puerto Rico at Mayagüez to earn her Bachelor's degree in animal science, and was then accepted to the Tuskegee University School of Veterinary Medicine in Alabama to earn her Doctorate of Veterinary Medicine. Dr. Diaz entered the rigorous internship program at Veterinary Specialists of South Florida after graduation, completing a year-long rotation focusing on medicine and surgery. In addition to her formal education, Dr. Diaz also holds a certification in canine rehabilitation therapy from the Canine Rehabilitation Institute.
When Dr. Diaz's previous boss decided to retire from private practice, he offered her the opportunity to purchase the clinic. Dr. Diaz had always dreamed of owning her own hospital, and she simply couldn't refuse! Now, as an Associate Veterinarian and the co-owner of South Miami Vets & Pets, she's able to live her dream every day of making beloved pets—as well as their owners—feel better. Dr. Diaz is particularly interested in surgery, dermatology, and emergency work.
Dr. Diaz and her husband recently welcomed their beautiful daughter, Sofía, into the world. The family shares their lives with Pancho, Dr. Diaz's adopted four-legged partner in crime. Pancho comes to work with Dr. Diaz every day, where he enjoys greeting the clinic's clientele and patients with a loving tail wag.
Outside of work, Dr. Diaz enjoys photography, music, practicing the guitar, and traveling. She's been to various destinations all over the world, having visited South Africa, Europe, the Caribbean, Hawaii, Venezuela, and Argentina!
---
Dr. Maria Acevedo, DVM
Co-Owner, Associate Veterinarian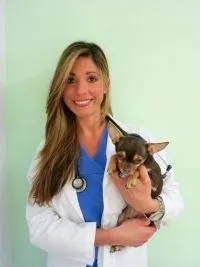 Dr. Acevedo cannot remember a time when she didn't want to be an animal care professional. Growing up in San Juan, Puerto Rico, she was surrounded by the family dogs and always felt a natural connection with them. Her passion for pet care simply never wavered— Dr. Acevedo decided to devote her life to bettering the lives of pets and their owners by becoming a veterinarian!
Dr. Acevedo earned her veterinary degree from Tuskegee University School of Veterinary Medicine in 2008, where she met her future business partner and best friend, Dr. Diaz. After graduating with her DVM degree, Dr. Acevedo completed a one-year rotating internship at Blue Pearl in Tampa, where she spent much of her time working in the ophthalmology department. She then moved to Miami to complete a veterinary ophthalmology internship at Animal Eye Specialty Clinic before relocating to Gainesville to complete a glaucoma research fellowship at the University of Florida.
When Dr. Acevedo and Dr. Diaz both began working in different locations in the Miami area, they started having conversations about becoming business partners. When Dr. Diaz was offered an opportunity to purchase a clinic, the pair decided to take the plunge—now they're co-owners of South Miami Vets & Pets, where they're able to serve the pets and animal owners of Pinecrest with compassionate, high-quality veterinary care every day.
Dr. Acevedo and her husband, Jimmy—an electrical engineer and project manager who is incredibly helpful behind the scenes here at the clinic—enjoy spending time at the beach, playing tennis, and rooting for the University of Florida's sports teams. Dr. Acevedo is also an avid traveler, and firmly believes that traveling is learning. She's explored cultures all over the world, including India, China, Hong Kong, Indonesia, Vietnam, Mexico, and the Caribbean!